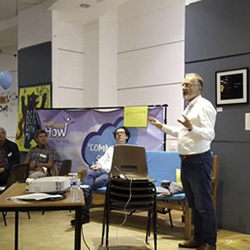 Would you like to be part of our opening event on the 27th – 28th of January 2017?
People Know How has been based in Ocean Terminal Shopping Centre for some months now. In June, we opened 'The Community Space' – a FREE resource for the use of the public, community groups, charities, and organisations. We've hosted a wide range of exhibitions, events, information sessions, trainings, meetings, and workshops. Already, it has become an effective way to bring people together to network and build community.
The Community Space has limitless potential being versatile and free to all.  We are officially launching the Community Space to make sure everyone knows about it. We hope to encourage more people to use this fantastic resource and opportunity, to build partnerships and collaborative work between people to come up with creative, innovative approaches to social issues.
If you would like to participate in the launch event, we would greatly appreciate if you could contact us by the 2nd December. You can contact us via our events email or by using the form on the right of this page and we will get back to you. You're also welcome to pop into our office on the second floor of Ocean Terminal Shopping Centre just across from the Vue Cinema, where we will be happy to talk and discuss the upcoming launch.
Before the official opening we welcome your bookings to use the space. Please complete the form on the right of this page and we will get back to you.